Posted by LL on 15th Dec 2015
In our last blog post, we shared the first two of six consciously crafted gift sets that we've created this holiday season to make your shopping a breeze. Today, we bring you Spices, Salts & Sweets, the Gourmand's Kitchen Gift Set and the Total Relaxation Chill Out Gift Set.
The purchase of each set supports local makers and artisans, as well as our Carroll Gardens based shop! Our gift sets come in wrap-ready boxes or gift bags, already assembled and ready to be gifted.
SPICES,SALTS & SWEETS: GOURMAND'S KITCHEN GIFT SET(S)
A perfect addition for the already adventurous culinarian, this set will also spice up even the blandest larder. It's available in two sizes, to accommodate all foodies and the people who love them, no matter the budget.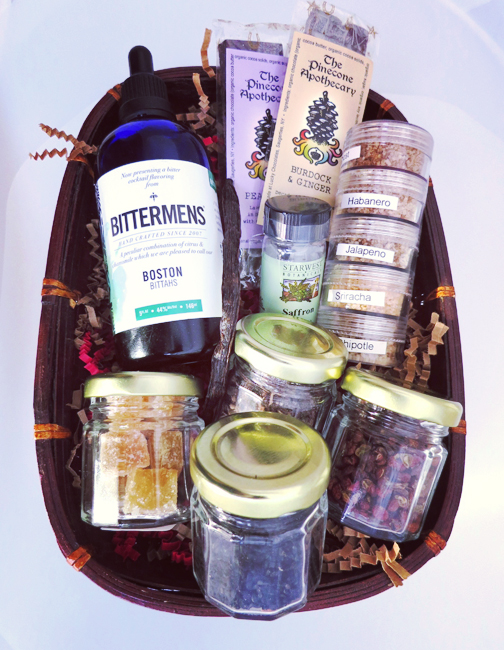 Inside, you'll find:
A tower of all natural flavored sea salts (5 or 3)
A 4oz bottle of Bitters or a .5oz Spray Urban Moonshine Bitters, we'll choose the flavor
Select Spices in gold topped glass jars (4 or 3 jars, all organic)
Pine Cone Apothecary handmade dark chocolates (1 or 2 bars)
A .5 gram jar of Saffron (in both sets)
An organic vanilla bean! (in both sets)
Maker Spotlight: Pinecone Apothecary
Aemen and Luis of Pinecone Apothecary combine their self-described, "superpowers of intuitive investigation, whole food nutrition, wild herbal invocation, and practical magic," to offer their community a variety of services and products. At their apothecary in upstate New York, they see clients one-on-one, teach classes, and lead workshops.
They also sell gem essences, handmade products, and the products of other herbalists and healers they believe in.
And if those details aren't convincing, how could you not want to support these guys: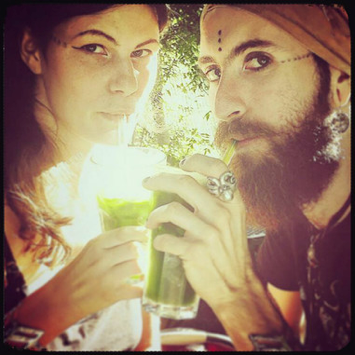 You can check out their products, or the other services they offer.
Cherie, owner of Remedies Herb Shop and Head Chocolate Taster, will choose from among the following eclectic flavors for your gift set.
burdock/ginger
caramelized walnut
seaweed brown rice crisp
caramelized rose petals and strawberries
About the Bitters
Bittermens is currently a two-person operation. Avery and Janet live and run their business in New Orleans, LA, where they still produce every batch themselves, by hand. On occasional bottling days, they have help from friends and family.
Urban Moonshine's hand-crafted Digestive Bitters are a well balanced, aromatic, non-laxative update to traditional bitters formulas. They serve all the same digestive benefits, and also work to dress up the classic cocktails you love. They're certified organic & gluten free.
About the Sea Salts
Season any dish with these special flavors, which come in small interlocking plastic tubs that can stand vertically in your cabinet.
In the large set: black truffle, sriracha, applewood smoked, roasted garlic, Spanish rosemary
In the medium set: sriracha, alderwood smoked, roasted garlic
About the Spices
Large set: organic crystallized ginger, organic roasted cacao nibs, organic Szechuan peppercorns, organic nigella seeds
Medium set: organic candied ginger, organic Szechuan peppercorns, organic nigella seeds
TOTALRELAXATION CHILL OUT GIFT SET(S)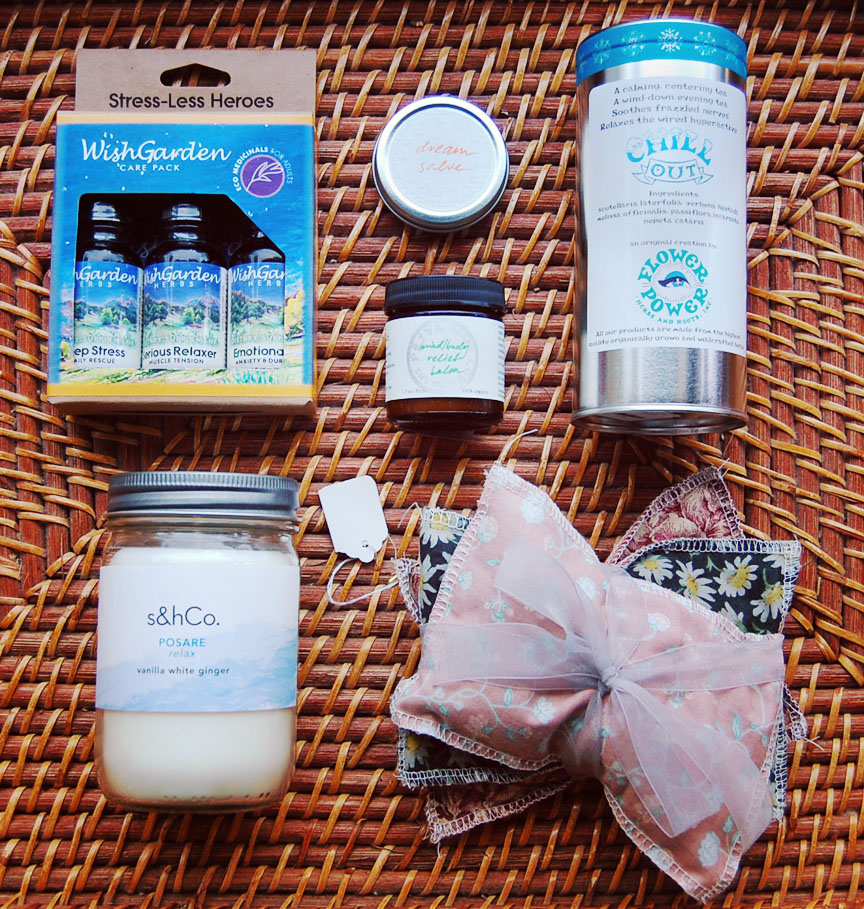 Everyone has a stress-case in their life. Our Total Relaxation Chill Out Gift Set promises to take the edge off even your most frazzled friends. Or maybe you have someone who's already committed to keeping the internal peace flame alight. Either way, give a gift of serenity – or send a subtle hint – with this chill out set.
Each item in this gift is all natural, with no GMOs, petro-chems, parabins, colorants, or animal testing. This set is available in two sizes, to accommodate chill-seekers on different budgets.
In the Set(s)
S&H Candle Company in their Posare (Relax) Blend
Hand Sewn Locally Made Lavender Sachets, 3 pack / 1 pack
Chill Out Tea blend from Flower Power Herbs & Roots, 2oz tin / 1oz bag
Wish Garden Stress Less Heroes Tinctures, 3 pack of 1oz bottles / 3 pack of .33oz bottles
Priya Means LoveMind Body Relief Balm, 1.7oz / .85oz
Priya Means Love Dream Salve, 1oz tin / .5 oz
Maker Spotlight: s&hCo. candles, Posare
When founder Sarah was diagnosed with stage 2 breast cancer, she began to pair natural aromas with soy wax. She found that taking a moment to focus on breathing, and to imagine a positive outcome, was essential for healing. She then started S&H candles with her partner, Gina.
They pour all their candles in small batches in NYC. The candles are made of pure soy wax and blended only with phthalate free oils. Cotton wicks are used to create a clean and even burn. All packaging is sourced in the USA.
This relaxation aromatherapy candle, in vanilla and white ginger, burns for 40 hours in a bright smokeless flame.
A percentage of each purchase goes towards fighting breast cancer.
Maker Spotlight: Priya Means Love
Priya Means Love is a one-woman business begun, as S&H was above, after a chronic illness changed Priya's life. She took pleasure and inspiration in playing with beautiful ingredients, in discovering herbalism, and in becoming a part of the indie crafting scene in Toronto.
Priya set out to create products that eased her chemical sensitivities, and found that her skin and hair were happier than ever. She uses only all-natural, responsibly grown ingredients that she's proud to buy.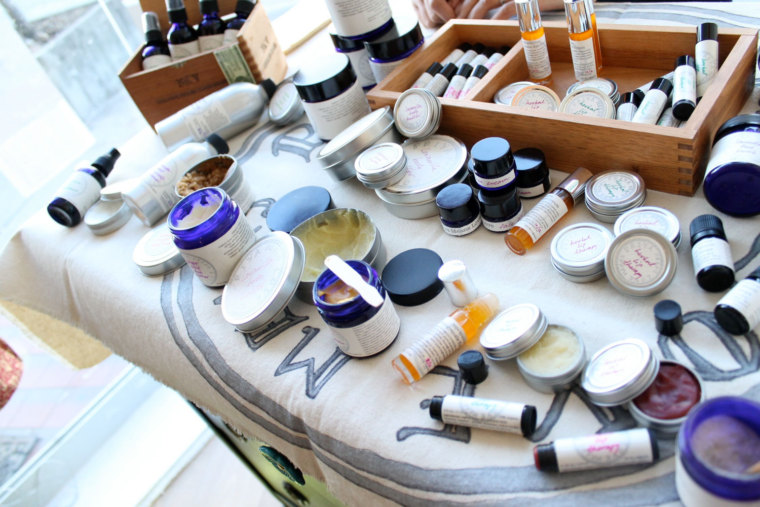 The Mind, Body Relief Balm is a powerful, organic minty-herbal massage balm for tense muscles and for tension headaches. Rub into your temples, neck, shoulders, or other muscles - wherever you could use a little cooling herbal relief - and inhale the relaxing vapors.
The Dream Salve is a delightful citrus & blossom salve to nourish the skin, lift spirits, calm tension, and encourage peaceful sleep and creative dreaming.
Come By Our Shop, Online or In Person
Save yourself the headache. We've done the heavy lifting. If you're in the neighborhood, please stop in! We'd love to wish you a happy season. If you can't make it in, all our gift sets are available on the website.